DFNI was on location for the ribbon-cutting ceremony of Istanbul Airport's "groundbreaking" Luxury Square
Founded as a partnership between TAV Airports and Unifree Duty Free / Gebr. Heinemann, ATÜ Duty Free has officially opened its innovative Luxury Square multi-brand "department store" duty free concept space at Istanbul Airport.
The almost 1000 sq m double-sided space located in the new airport's Zone 5 retail area had a soft launch in January and features a mix of world-famous, luxury and contemporary fashion brands.
The offer is both an open plan luxury marketplace featuring multiple brand vignettes from the likes of Burberry and Givenchy as well as a number of mono-brand flagships. These go hand-in-hand as part of the concept according to retail partner, Heinemann.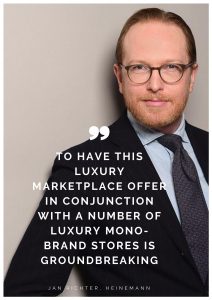 Located at a central point with its multi-brand store concept covering more than 800 sq m in total in Istanbul Airport, Luxury Square offers iconic luxury sportswear, fashion and accessories products of 28 different brands, each showcasing newness not seen before in the duty-free marketplace.
Heinemann Purchasing Director Fashion & Accessories Jan Richter told DFNI: "In our opinion, it's a new benchmark not only for duty free but airport retail in general. To have this luxury marketplace offer in conjunction with a number of luxury mono-brand stores is groundbreaking.
"We are developing the offer across multiple categories from luxury sneakers to handbags to sunglasses to menswear. Even in airports in Asia you don't see this depth of fashion & accessories. With Luxury Square we are offering one luxury shopping experience."
We operate 22 boutique and pop-up stores at Istanbul Airport and we offer products of 45 different brands – Ersan Arcan, ATÜ Duty Free
Luxury Square offers clothes and accessories of several brands including Burberry, Kenzo, Givenchy, Loewe, Stella McCartney, Alexander McQueen, Chloé, Marc Jacobs, Off-White, Palm Angels, Alanui, etc. The store also offers watches and jewelry of brands such as Chopard Watches & Jew., Messika, Piaget Watches & Jew., Atelier Swarovski, Tous, Bee Goddess, Gucci, APM Monaco and Rado; as well as glasses of Balenciaga, Cartier, Celine, Chloé, Dior, Fendi, Gucci, Saint Laurent.
Besides, Luxury Square hosts a 110sqm sunglasses store and 92sqm luxury watches and jewelry store that will offer high-quality, luxury products.
ATÜ Duty Free CEO Ersan Arcan said: "Today, we are glad to open our new concept store. We will be hosting valuable brands at Luxury Square with our multi-brand shopping concept where the luxury brands are brought together.
"As a leading organization in duty-free store management, we proceed with our valuable experiences we gained through our operations across the world in the last 20 years in the luxury retail business as well and I am glad to say that we are in a leading position among the companies operating in Europe in this context.
"At ATU, we operate 22 boutique and pop-up stores at Istanbul Airport and we offer products of 45 different brands to the passengers, each more valuable than the other."
Ali Şenher, the CEO of Unifree Duty Free, added: "We offer our services across a massive 56,000 sqm of retail space at Istanbul Airport which is dubbed to be the biggest infrastructure investment in Turkey. With the opening of Luxury Square, the rental process of the duty free spaces will be finalized.
"There are still 27 companies, foreign or domestic, queued for a lot at the airport. We are very happy with the interest of global and domestic companies."
Richter commented: "Our Zone 5 luxury marketplace concept is an exciting and innovative breakthrough for Unifree and Gebr. Heinemann in the global travel retail market. The marketplace idea combines luxury mono-brand stores, food & beverage and seating areas together with a unique generic department store area.
"It fully demonstrates our wealth of expertise and knowledge in high-end luxury retailing and our ability to create exceptional fashion experiences constantly pushing the boundaries.
"The success of the Luxury Zone project certainly lies in the genuine and efficient collaboration between IGA, Unifree, ATÜ, Gebr. Heinemann, Plajer & Franz and our brand partners, in sharing ideas about the future of luxury retailing at airports and working on the execution of the Luxury Hill concept.
"We are totally committed to constantly understand, engage and satisfy shoppers by creating the ultimate unique shopping experience and exciting innovative retail concepts that deliver exceptional results for ourselves and our business partners. Blending our global and local expertise, we believe we have created a unique innovative and exciting fashion experience for the discerning Istanbul shopper."