ATU Duty Free, one of the leading companies in travel retail sector, opened Luxury Square, a multi-brand concept that brings together world-famous brands, and Old Bazaar where the most exclusive local products from different categories are offered, at Dalaman Airport. In the same area as the stores, there is also a Luxury Eyewear pop-up store with sunglasses collections of luxury brands exclusive to Dalaman.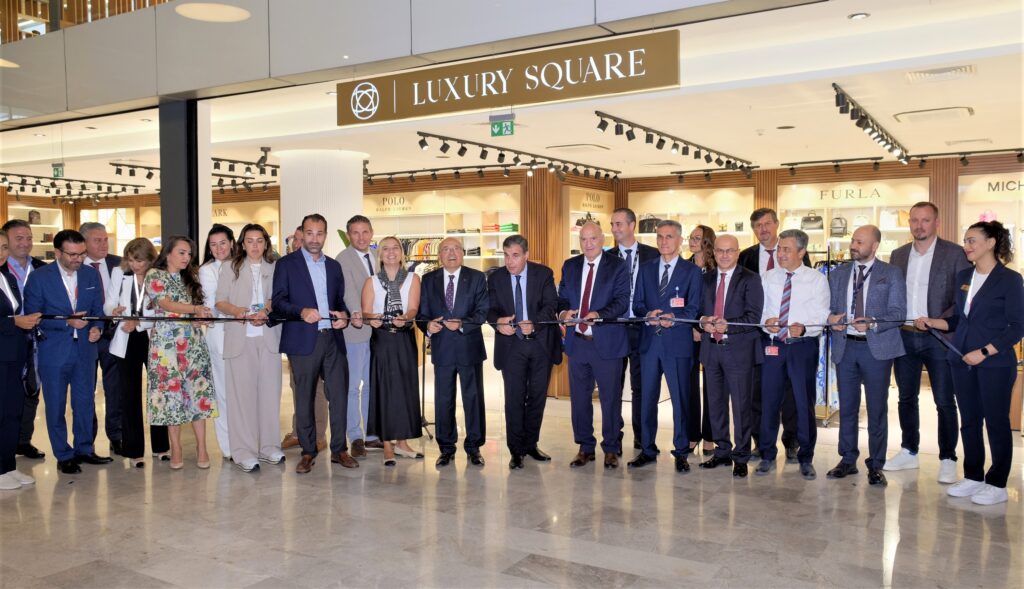 ATU Duty Free, a subsidiary of TAV Airports and Unifree Duty Free/Gebr. Heinemann, expanded its duty-free retail service network and started its duty free operation at Dalaman Airport. ATU Duty Free will be at Dalaman Airport with its multi-brand concept Luxury Square where world-famous brands are located in one place, Old Bazaar store with high quality traditional local products in different regions of the country, and Luxury Eyewear pop-up store featuring sunglasses collections of iconic fashion brands. Located on the departure floor of Dalaman Airport International Terminal, Luxury Square offers a unique shopping experience on 236 square meters and Old Bazaar on 71 square meters. Luxury Eyewear is located in the same area with a pop-up store concept.
Ersan Arcan, CEO of ATU Duty Free, said, "As a pioneer in duty-free business, we are delighted to bring our know-how and experience gained through our worldwide operations in 23 years to Dalaman Airport and to add Dalaman, one of the most popular tourism destinations of our country, to our operation map. At Dalaman Airport, we meet passengers under different concepts with our Luxury Square and Old Bazaar stores, which we have realized with an investment of approximately 700 thousand Euros. At Luxury Square, where the world's most exclusive brands are located in one place, our guests will find products from the latest and the most popular collections of world-known luxury brands. In our Old Bazaar store, we will offer passengers a wide range of local products from all regions of Anatolia. We will continue to contribute introducing of our country with our brand Old Bazaar, which plays an important role in introducing products reflecting our culture to passengers from different nationalities. We have also designed a 'Luxury Eyewear' pop-up store specially for Dalaman, featuring sunglasses collections of iconic brands. We aim to offer a privileged shopping experience to all our guests by bringing a wide range of products for different preferences with our different concept brands. We are happy to add value to Dalaman Airport in this sense.''
Ali Şenher, CEO of Unifree Duty Free, said "As Unifree, in our 40 years of duty free experience, we have always presented and continue to offer the best products and brands to our guests with our most modern and stylish store concepts. We are happy and proud to introduce Luxury Square and Old Bazaar concepts to our guests in the duty free area we operate in Dalaman, the most important tourism region of Turkey. We believe that these two important store concepts will make the holidays more memorable for our guests who prefer our country for their travels.''
Yiğit Laçin, YDA Dalaman Airport CEO stated, "We are thrilled about the opening of Luxury Square, Luxury Eyewear, and Old Bazaar stores at Dalaman Airport. Luxury Square, offering a modern shopping experience, the pop-up store Luxury Eyewear, and the authentic ambiance of Old Bazaar store perfectly complement our concept of welcoming guests at the terminal. Luxury Square, a multi-brand concept bringing together world-renowned fashion labels, and Old Bazaar store showcasing a selection of premium local products, are significant milestones in enriching our guests' shopping experience and further enhancing the quality of services we provide during their time at the airport. We extend our gratitude to all our business partners who contributed to this crucial development for the Dalaman region. We firmly believe that Luxury Square, Luxury Eyewear, and Old Bazaar stores will provide our airport visitors with an enjoyable and exclusive shopping experience. We welcome all our airport guests and wish them a memorable journey filled with unforgettable moments."
Jan Richter, Gebr. Heinemann Director Purchasing FAWJ, said "The two new shopping experiences are proof of how strong travel retail is back after the pandemic. The range of products and exclusive brands as well as the unique setting will have strong appeal to a young, global audience. The impressive amount of premium and affordable luxury brands under one roof counts for a spectacular assortment satisfying highest demands." We are especially proud of the great team effort by Dalaman Airport, ATU Duty Free, Unifree and Gebr. Heinemann that made this project possible."
The Luxury Square at Dalaman Airport features the latest and most popular products from brands such as Armani Exchange, Paul & Shark, Polo Ralph Lauren, Michael Kors, Furla, Piquadro, Coccinelle. The Luxury Eyewear pop-up store features pieces from the sunglasses collections of brands such as Burberry, Prada, Prada Linea Rossa (Prada Sport), Bulgari, Celine, Fendi, Tom Ford, Balenciaga, E. Armani, Maui Jim, Saint Laurent and Loewe. The Old Bazaar store offers a wide variety of products in different category groups ranging from Turkish delight, baklava, nuts, dried fruits, tea and coffee, honey, souvenirs, jewelry, silver and bijouterie, home textiles, rugs and carpets, lighting and clothing.
About ATU: ATÜ Duty Free provides duty free services at more than 110 stores in more than 25.000 sqm sales area, in 21 airports and 1 cruise port, in 6 countries over 3 continents. ATÜ Duty Free operates Old Bazaar concept stores and luxury boutique stores of more than 20 brands at Istanbul Airport in Turkey, and Luxury Square, Old Bazaar store and Luxury Eyewear pop-up store at YDA Dalaman Airport. It also operates the duty-free shop at Galataport Istanbul cruise port, and manages duty free operations at Ankara Esenboğa, Izmir Adnan Menderes, Gazipaşa-Alanya, Milas Bodrum Airports as well as duty free stores in Tbilisi, Batumi, Kutaisi in Georgia; Skopje, Ohrid in Macedonia; Enfidha, Monastir, Carthage, Jerba, Sfax, Tozeur, Tabarka in Tunisia; Riga in Latvia and Salalah Airport in Oman. ATÜ Duty Free, one of Turkey's leading duty-free store operators, was established in partnership with TAV Airports and Unifree Duty Free / Gebr. Heinemann, offers passengers access to 50 thousand different products from the world's most recognized brands at advantageous prices.