Istanbul, 11 August 2022. Cartier has made style history with watch models such as "Tank" or "Santos," the famous "Trinity" ring or the "Juste Un Clou" bracelet. Now, the French Maison has opened a new mono-brand boutique at Istanbul Airport in partnership with the joint venture of Gebr. Heinemann, Unifree Duty Free and ATÜ Duty Free.
Located in Zone 4 of the airport, the "Luxury Watches & Jewellery Zone", the boutique covers 130 square metres. Here, in "Luxury Hill," it is located in the vicinity of other mono-brand stores of international luxury brands such as Bulgari, Bottega Veneta, Celine, Christian Dior, Fendi, Gucci, Hermès, Louis Vuitton, Prada and Saint Laurent, perfectly rounding off the unique shopping experience for travellers.
Shining like a precious piece of jewellery and visible from afar
Visible from afar is the spectacular 12-metre-high facade. Shining like a precious piece of jewellery itself, it is designed with three-dimensional, illuminated elements shimmering like gold. The spacious entrance area with showcases presenting highlights from the watch and jewellery collection invites passengers to explore the elegantly furnished boutique. It offers a full range of the Maison with watches and jewellery as well as leather goods and a selection of perfumes and sunglasses. Cartier's signature colour red accents the light marble floor as well as the walls and furniture. An "Icon Bar" with the brand's most famous pieces is placed in the centre.
Jan Richter, Director Purchasing FAWJ at Gebr. Heinemann, said on the occasion of the opening: "We are proud to be partnering with Cartier at our Istanbul Airport luxury marketplace. The Maison is one of the top 3 luxury brands in the world. It stands for legendary watches and jewellery that are passed down from generation to generation."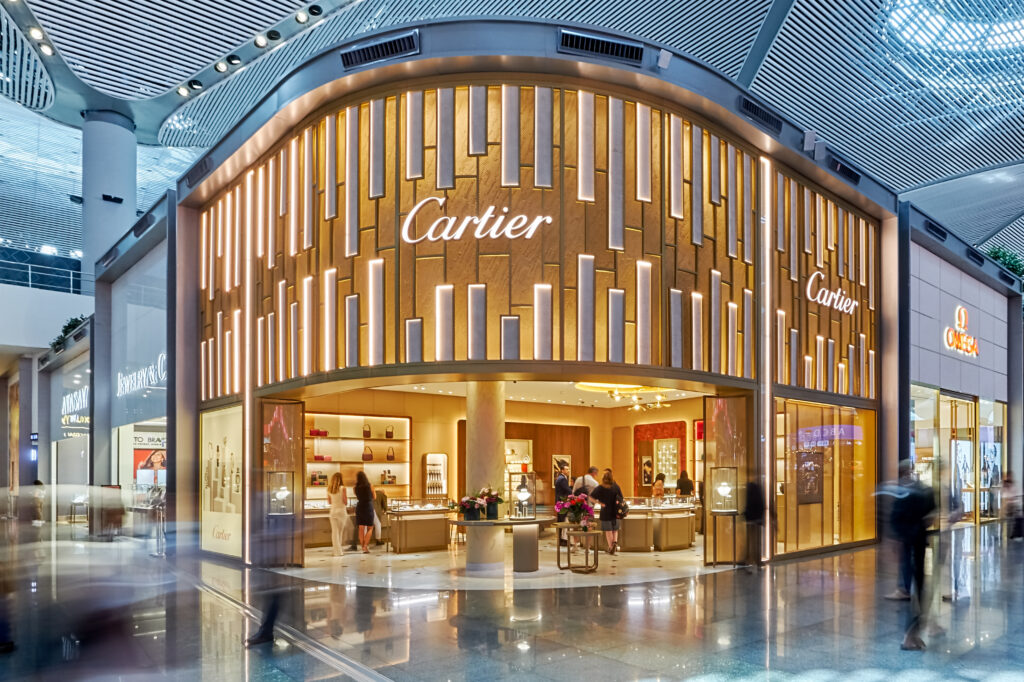 Perfect addition to exclusive brands at Istanbul Airport
The high standards of exclusivity and creativity are also evident in new product lines such as "Clash De Cartier" and contemporary interpretations of classics such as "Santos", which are also very attractive to a younger segment of shoppers.
"The Cartier mono-brand boutique is a perfect addition to our range of exclusive brands in Istanbul and will delight travellers. We thank all parties involved for the excellent cooperation," Jan Richter continued. "As part of our strategy for the FAWJ category, we are strengthening our collaboration with the world's leading luxury brands. Cartier is part of the Richemont Group, one of our key strategic partners for this."
Nicolas Martin, Managing Director Turkey & Levant at Cartier, emphasized: "We are pleased to extend our presence in Turkey with this new Cartier Travel Retail boutique at Istanbul Airport. In collaboration with our valued partner Heinemann and operator ATÜ Duty Free, we look forward to welcoming international clients with true luxury experiences tailored to the needs of travellers ."
ATÜ Duty Free CEO Ersan Arcan stated: "As ATÜ Duty Free, we are happy to cooperate with one of the most valuable brands of the world, 'Cartier'. We regard the presence of an important brand such as Cartier, which is one of the first names that come to mind when it comes to elite brands on a global scale, at Istanbul Airport as an essential development for boutique retailing. We continue to expand our portfolio by maintaining our knowledge and experience in the field of luxury, as we are one of the pioneers in Travel Retail. We aim to offer a privileged customer experience to our passengers by continuing our product and brand collaborations in the boutique retailing field, in addition to our domestic and foreign Duty Free stores and our special concept stores."
Luxury segment has proven resilient
At Istanbul Airport, Gebr. Heinemann together with ATÜ Duty Free and its brand partners has created a luxury marketplace with mono-brand boutiques and new multi-brand concepts that brings the ambience of international department stores to the airport while setting new standards in Travel Retail. The joint venture addresses the cosmopolitan audience at Istanbul Airport with passengers from, for instance, Turkey, the United Arab Emirates or Kuwait and, above all, the Global Luxury Travellers and Millennials.
"The luxury segment has proven to be extremely resilient during the Covid-19 crisis. Because of the intrinsic and lasting value of a precious piece of jewellery, it is attractive to shoppers. At Istanbul Airport, which was open when many other airports were closed, luxury brands performed above average," explained Jan Richter.
Contract negotiations with Cartier were initially interrupted by the pandemic, but finalised in 2021. The subsequent construction phase went exactly according to plan, reported Metin Yaldiz, Senior Sales Manager Near East & Turkey at Gebr. Heinemann.
"We are thrilled to have now completed the boutique and proud to have ATÜ Duty Free and Cartier as strong partners on board for the special shopping experience at Istanbul Airport." And he pointed out another feature: "The boutique is an LEED-certified store. This certification standard developed by the US Green Building Council stands for 'Leadership in Energy and Environmental Design'."
The joint venture of Gebr. Heinemann, Unifree Duty Free and ATÜ Duty Free operates a total retail area of 53,000 square metres at Istanbul Airport and is also responsible for the centre management.