ATÜ Duty Free, the joint-venture between TAV Airports Holding and Unifree Duty Free/Gebr. Heinemann has reflected on a successful year, despite the loss of around 9,000sq m of core duty free space following the closure of Istanbul Atatürk Airport.
Founded in 2000, ATÜ Duty Free is a combination of airport owner/landlord, retailer and distribution/supplier. It runs successful airport operations across Turkey in locations such as Izmir, Ankara, Bodrum and Gazipaşa and crucially operates around 6,000sq m of retail space at the new Istanbul Airport.
This includes Hermès, Bulgari, Celine, Fendi, Loro Piana, Michael Kors, Montblanc, Longchamp, Salvatore Ferragamo, Eremenegildo Zegna, Furla, Paul & Shark and Luxury Timepieces (multi brand watches and jewellery) boutiques. It also runs destination and local shop concepts such as the Old Bazaar.
ATÜ's footprint at the airport will also increase once the new 850sq m open-plan concept opens in the heart of the luxury area (Zone 5). This will comprise generic furniture with around 10-12 brands and is due to open this month.
The company has also developed a strong overseas presence in locations such as Georgia, Latvia, Macedonia, Tunisia and Oman.
NEW PROJECTS ON THE HORIZON
Ersan Arcan, CEO, ATÜ Duty Free told TRBusiness: "We are a well-established, experienced and leading duty free company in Turkey and elsewhere with new projects around the corner. All in all, it has been a successful year. When we look at our overseas operations, generally the growth is there. We have a growing operation in Georgia (Batumi, Tbilisi and Kutaisi Airports) and are very happy with our Latvian operations (Riga Airport) where we have a big team looking to achieve even better results. Macedonia (Skopje and Ohrid Airports) is also increasing."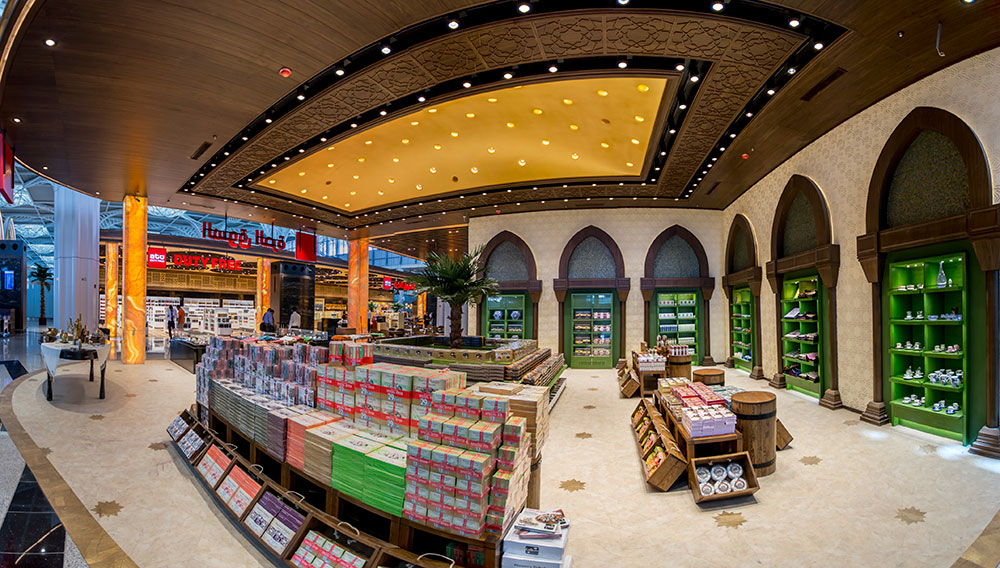 In the Middle East, ATÜ operates at Madinah and Salalah International Airports in Saudi Arabia and Oman respectively. As highlighted at this year's Middle East and Africa Duty Free Association Conference in Muscat, Oman, trading conditions in the Middle East have been anything but easy. Arcan said: "We are facing some kind of development in Saudi Arabia and our Middle East operations need to improve. These are challenging times, but we have state-of-the-art beautiful shops which certainly have a future."
The retailer's Tunisian operations include stores at Tunis-Carthage, Enfidha, Monastir and Djerba Airports and are achieving improved results year-on-year, according to Arcan who added: "All in all, there has been healthy growth across the entire business. It will be another year of growth if we do not include the business we had to cease at Istanbul Atatürk. Next year, we will back on track due to the health of our foreign operations and business at the new Istanbul Airport."
Another location where ATÜ Duty Free ceased operations, this time through choice was George Bush Intercontinental Airport in Houston. The company secured one of two 10-year contracts — Dufry-owned World Duty Free Group claimed the other concession— back in 2015. In September 2018, it was revealed ATÜ would exit the concession when the Terminal D stores closed due to continued operating losses among other elements.
Reflecting on its withdrawal from Houston, Arcan hinted that the magnitude of its operations at the new Istanbul Airport was part of its decision. "We had to focus on our incredible operations at the new Istanbul Airport. It was a strategic decision to move out of the market, but the experience was a fruitful one and we managed to create great shops. We tried to ensure the ATÜ standard of retail shined through and managed to achieve our goal. With the closure of Istanbul Atatürk and opening of the new airport on the horizon we had to make a professional decision."
Looking ahead to the opening of the new Zone 5 at Istanbul Airport, which is believed to be imminent Arcan said: "We are undertaking some small refurbishments of our shops, but the main focus is developing our Istanbul operations and finishing everything perfectly there first. We will then focus on our other locations."