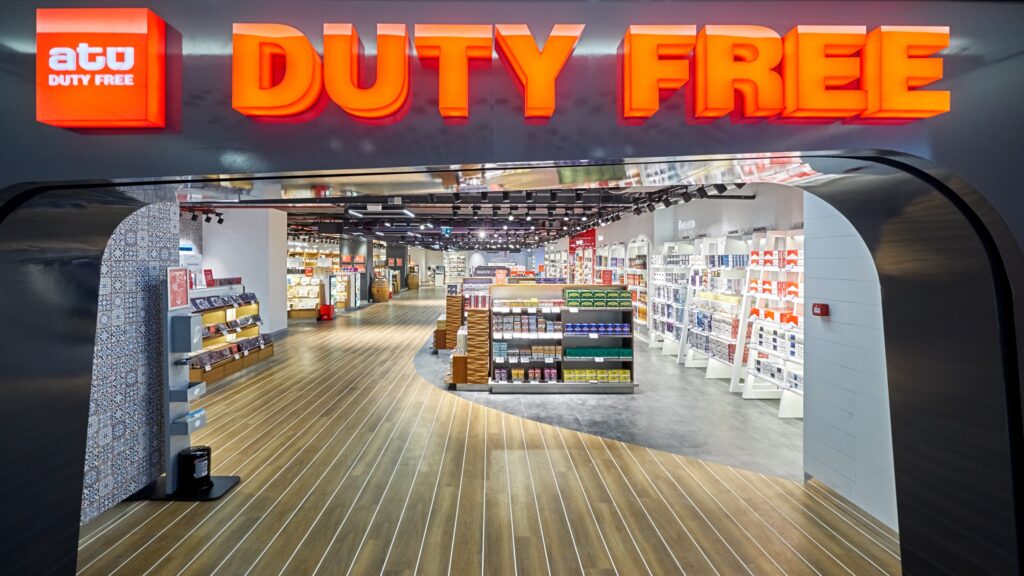 Located in Galataport Istanbul, which has revived the historical port of Istanbul and has become a popular meeting location, the store of ATU Duty Free, the leading company in duty-free operations, opened its doors to its customers in last October. ATU Duty Free store has a wide product range offering many products, including cosmetics, foods, clothes to souvenirs, from various brands.
The latest store of ATU Duty Free in Galataport Istanbul is the first of ATU stores, which bring together classic duty free and Old Bazaar concepts at the same store. Located in the cruise terminal of Galataport Istanbul, which is a brand-new destination for local and foreign tourists and Istanbulites with its port terminal, exclusive restaurant chains, cafes, world-renowned brands and office spaces extending from Karaköy Dock to Fındıklı, the store serves over an area of 670 square meters.
Designed by adopting a ''walkthrough'' concept, ATU Duty Free store attracts attention with its modern and stylish atmosphere, and offers its customers the most popular classic duty-free products, perfumes, cosmetics, accessories, toys and chocolates. Moreover, the products of the Old Bazaar, which has a local concept that successfully reflects the cultural richness of Türkiye, including Turkish delight, baklava, special teas, local coffees, jewelry, souvenirs, home textile, ceramic products, are available on the shelves of the store.
Ersan Arcan, CEO of ATU Duty Free, stated, "At ATU Duty Free, we have achieved a remarkable momentum with our boutiques and concept stores in recent years, and we carried our know-how and experience in the sector further. I would like to underline that we have a different and special position among duty-free operators in Europe today, thanks to our experience and growth strategy in duty-free operations. We initiated this journey more than 20 years ago in order to offer the most special products of world-renowned brands in duty-free shopping sector at airports in Türkiye and abroad; and today, we are pleased to operate the first duty-free store in a port operation, which is a destination that has changed the face of the city and become a landmark for Istanbul. We are happy to add value by being involved in an important and brilliant project like Galataport in Türkiye."
Erdem Tavas, Member of the Executive Board of Galataport Istanbul stated, "Galataport Istanbul is a unique destination not only in Türkiye but also in the world. Galataport Istanbul has redefined one of the most valuable historical regions of the Bosphorus which with a 1.2 km long shore, thanks to the first underground terminal in the world. We have the goal to host a total of 25 million visitors per annum, 7 million of which are foreigners, in Galataport Istanbul, which has the world's first underground cruise terminal. We expect to welcome 1.5 million cruise passengers and crew with the cruise ships arriving. We are glad to have ATU Duty Free and the first duty-free store in a cruise port in Galataport Istanbul."